Try all Generators right now with free credits
No credit card required
Custom-built training data based on campaigns recognized by
Internally-compiled structured dataset exclusive to Daydrm
Multi-output generators
Generate three outputs at once with a single brief
👆 Watch the creative idea generator in action
People are turbocharging their strategic and creative output with Daydrm
"It saddens me to say that my first test with this was not awful."
Eran Thomson, Creative Director
"This is the advertising version of the self-checkout."
Vicky Murphy, Creative Director
"This is amazing. If this is where we're at today, where will be in 5 years? Or 5 months?"
Dan Nelken, Marketing
"This is pretty bananas and I think I'm actually going to use it. Thank you."
Keiji Ando, Creative Generalist
"Great idea, it works - real ideas in, great concepts out!"
Elaine Gale, Corporate Communications
"Ruh-roh. My cheezy Tim Hortons brief generated a pretty good starting point for a viral film in just one go."
Richard Bingham, Professor
"Tried it 10x with very good clear and simple briefs. As a jumping-off point for first thoughts or to kickstart a brainstorm, it's good."
Josh Bryer, Creative Director
"I just tried this with an existing product. Wow. It's just amazing! 🤯"
Misbah Abbas Jamali, Marketer
A growing collection of creative AI tools
Data privacy: Inputs and outputs are private
We're committed to privacy and security for our individual and business clients. Click below to understand how we keep business data safe.
AI tools for strategists, creatives and directors
Find the generator to create the deliverables you need. Each generator acts upon its own bespoke training dataset
Strategic briefs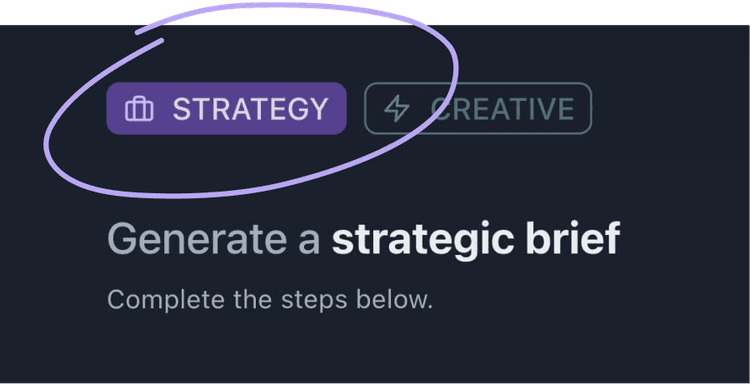 Creative ideas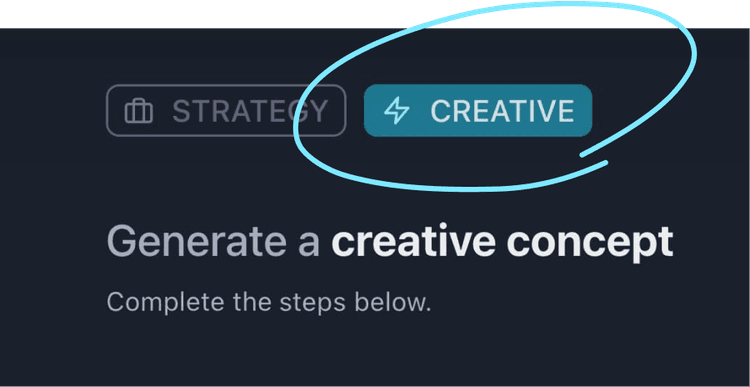 Used by team members at


Introducing the first AI creative partner.
Creative teams famously work in pairs. Chat with Ari to generate ideas and revise them in a collaborative, natural chat interface. Work with Ari exactly like working with your human creative partner.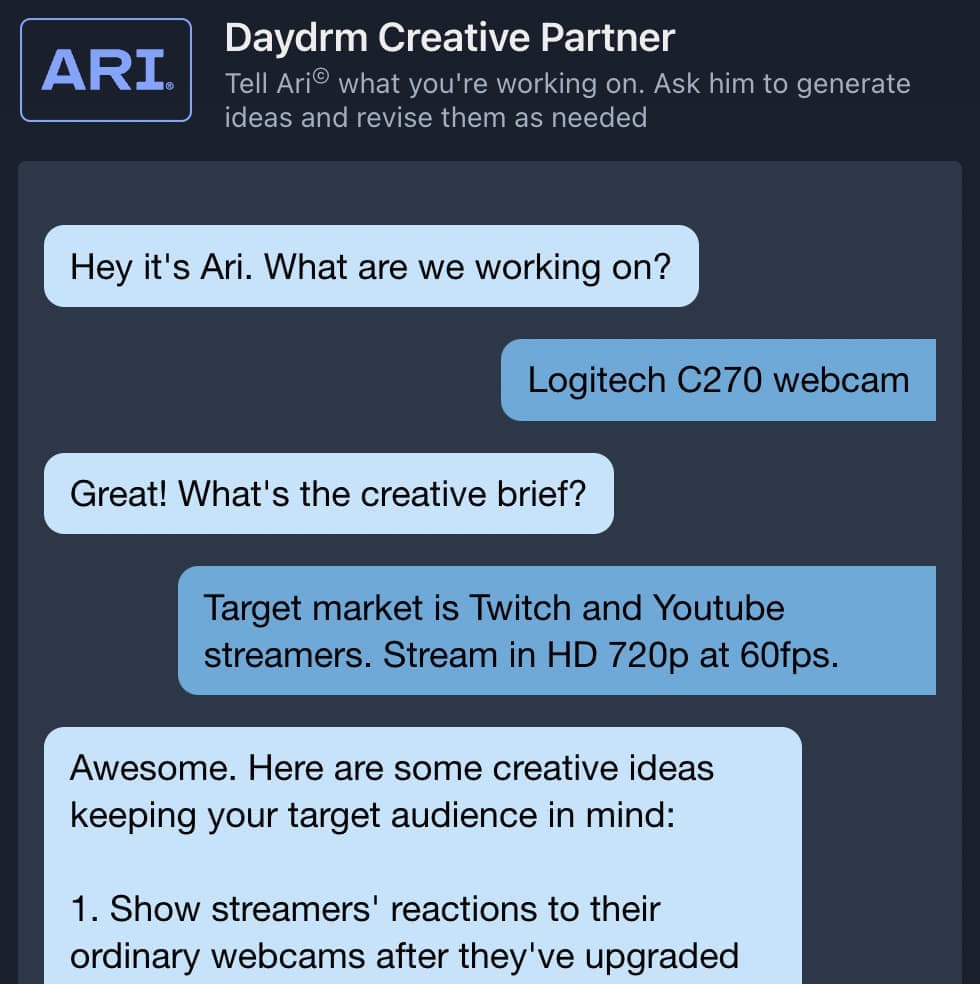 Watch how to generate ideas with an AI creative partner
Daydrm beats ChatGPT on idea generation
Watch below to see how Daydrm outperforms ChatGPT for creative concepting.
As seen in
Creative ideas
Enter a brief, generate these creative formats
Experiential | Live event | In-store activation

Interactive / digital / mobile activation
Instagram user-generated campaign

Headlines for social | ads | landing pages
Designed to be simple
Easy-to-use interface, user-tested by real strategists and creatives
Example outputs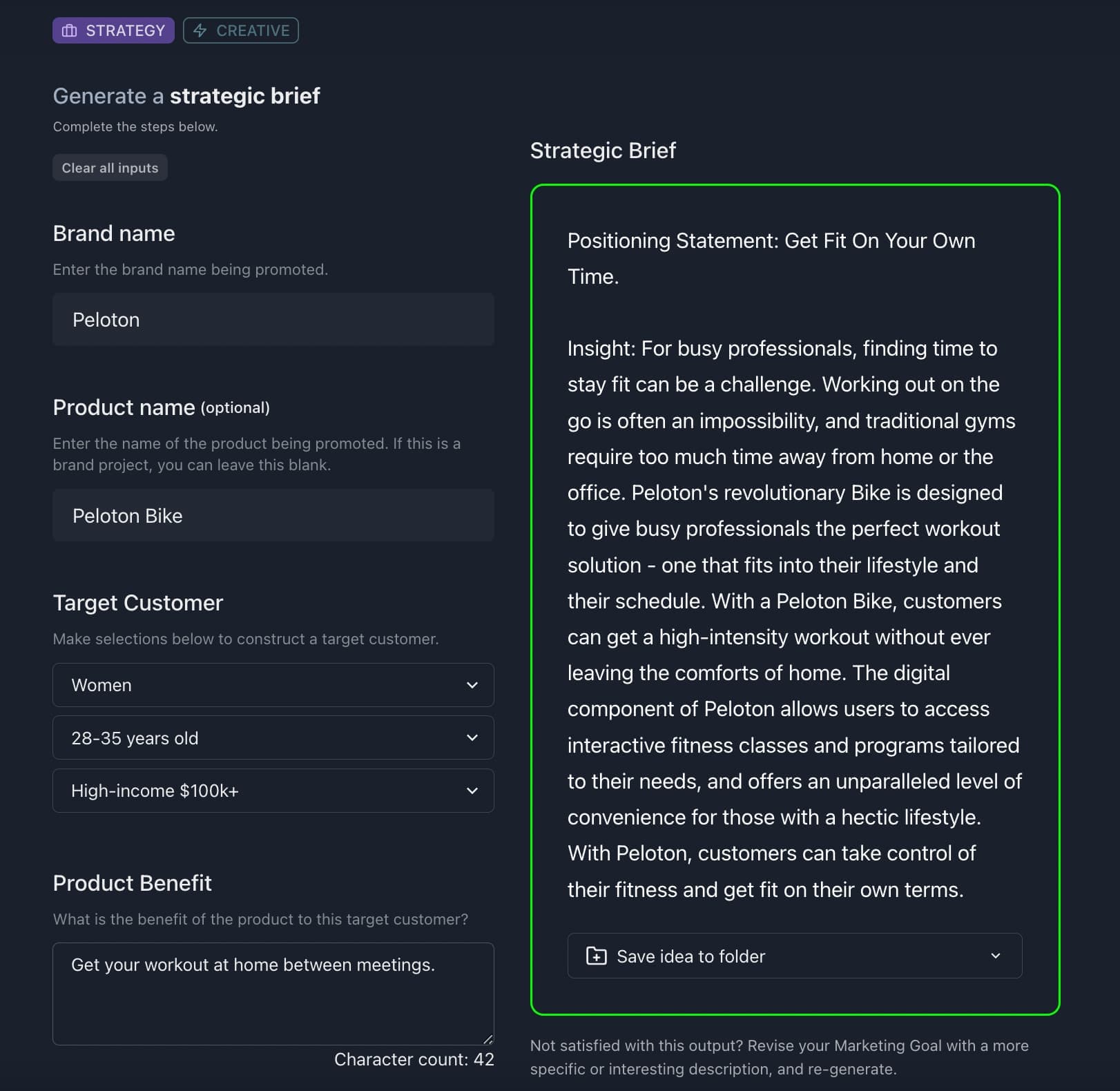 Creative
Example: Death Wish Coffee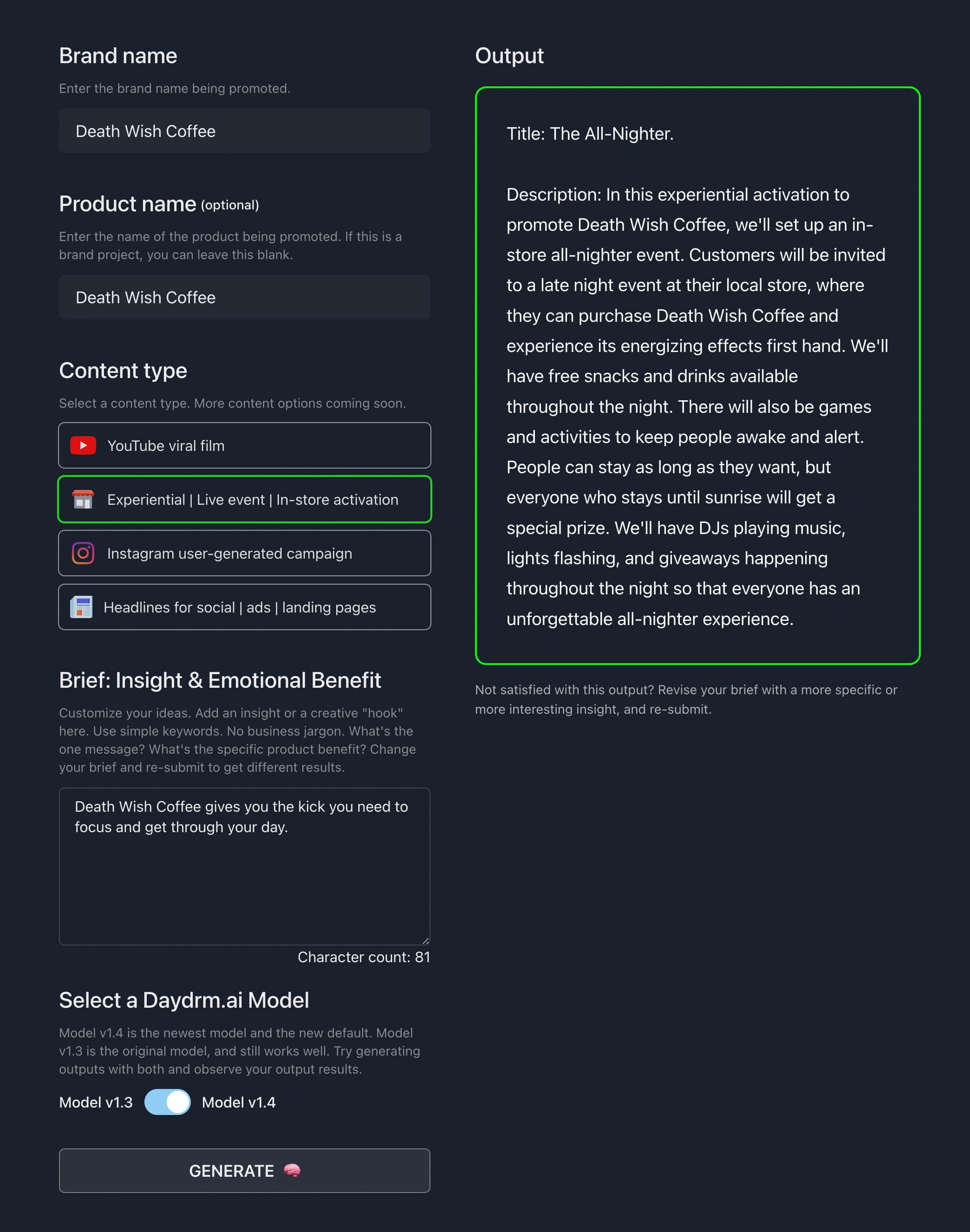 Creative
Example: Gorilla Glue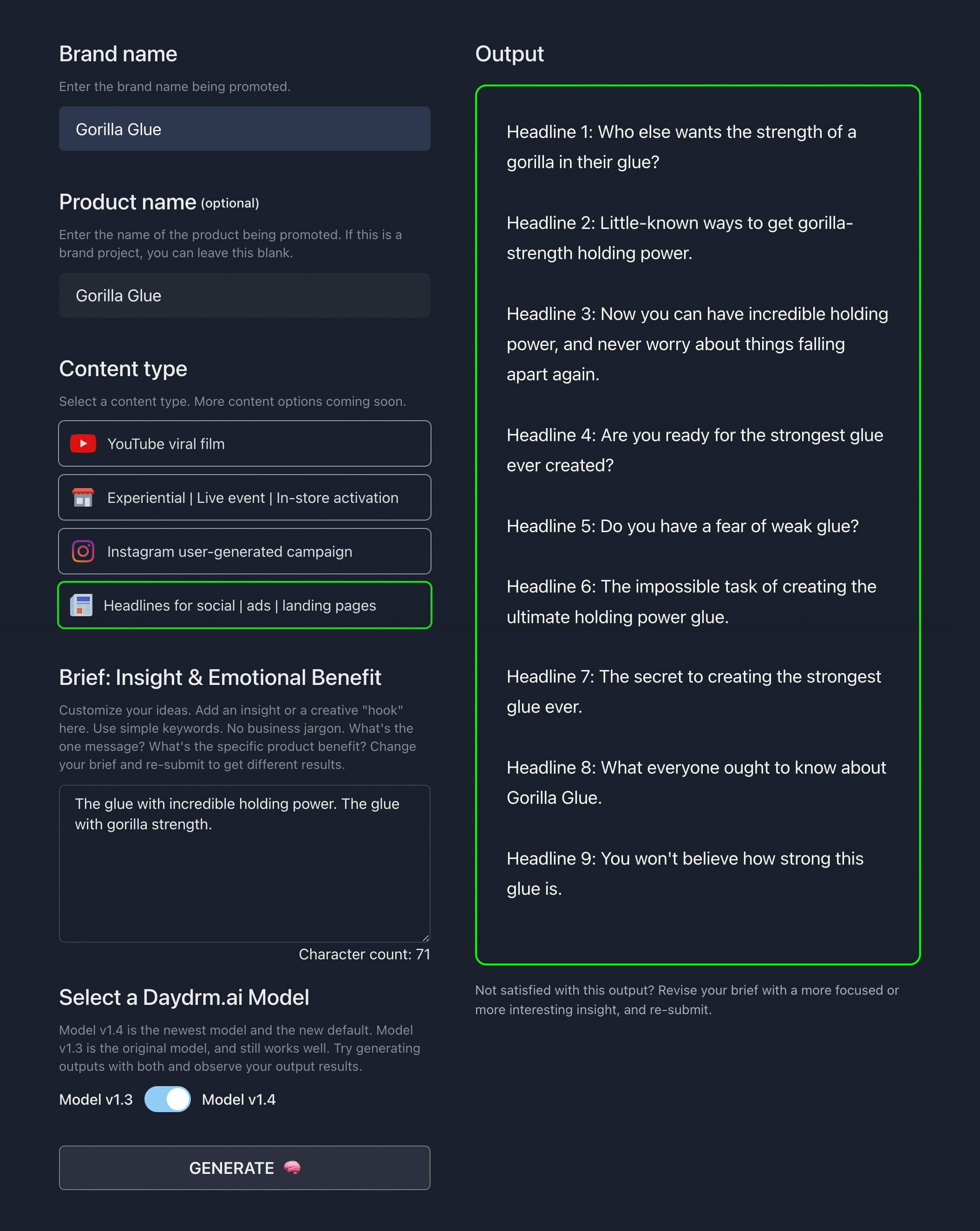 Save ideas to custom folders
Organize folder by client, project, campaign or content-type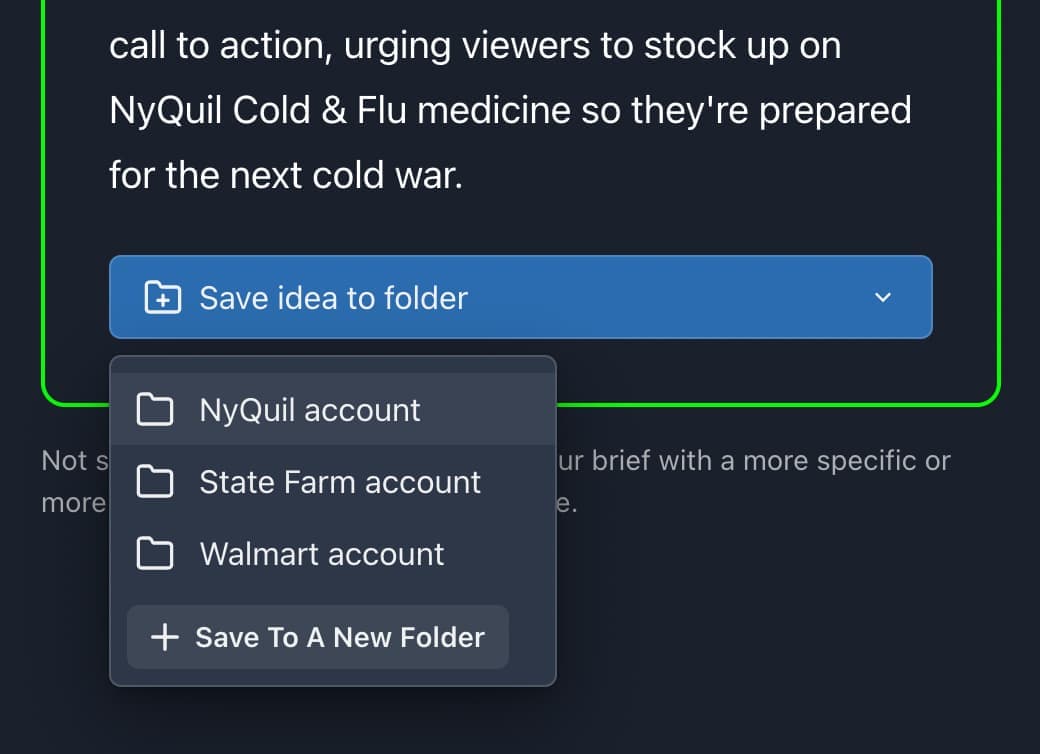 View and organize your outputs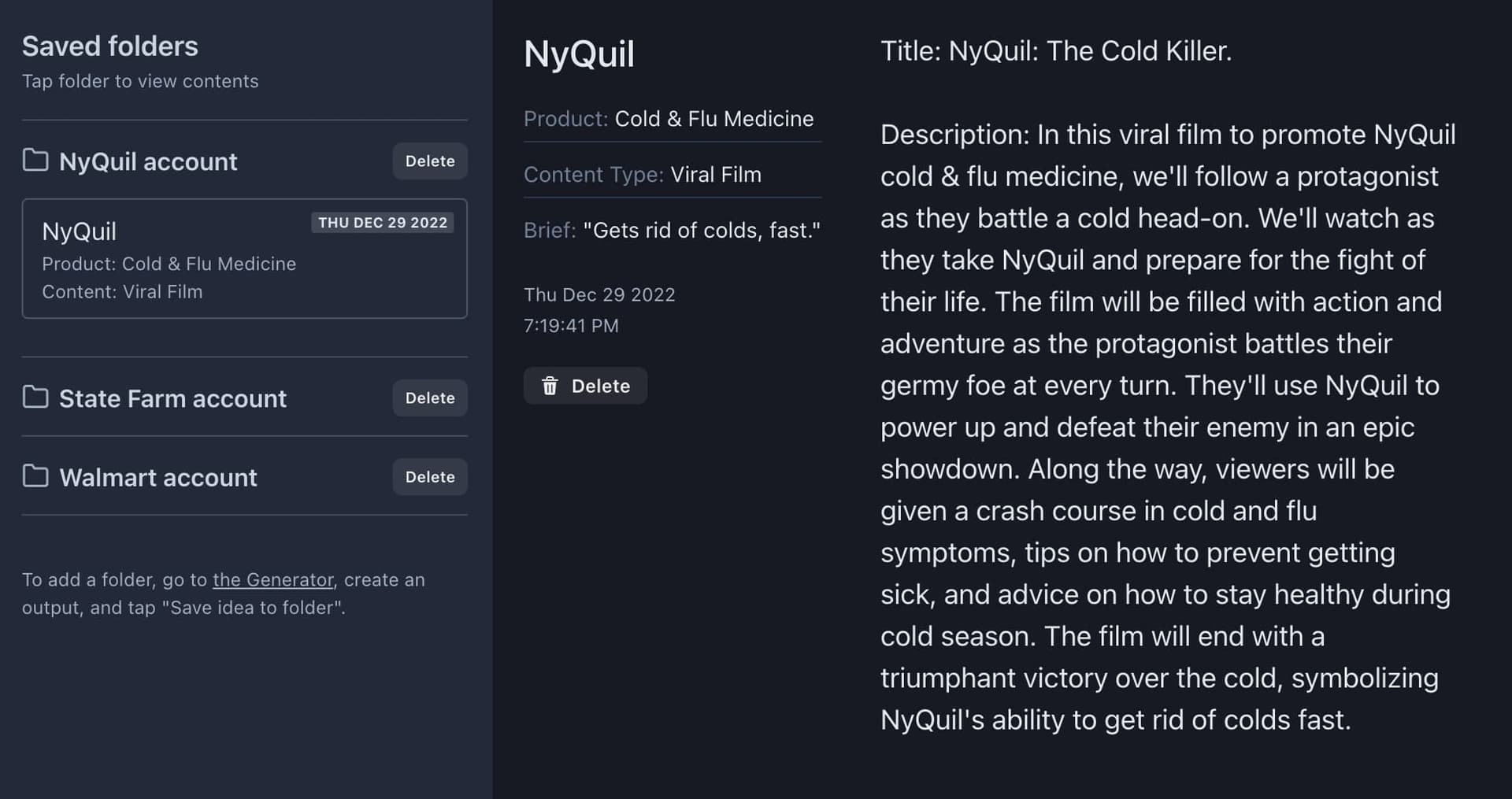 Frequently Asked Questions
From the Daydrm blog
Sun Nov 27 2022
Creativity is an algorithmic problem. In other words, it's an AI problem
The future of advertising is using machine learning to perform creative thinking
Get infrequent email updates.
We'll only email when there's product updates and new features.